Rapoport's Meal Kits Are Here!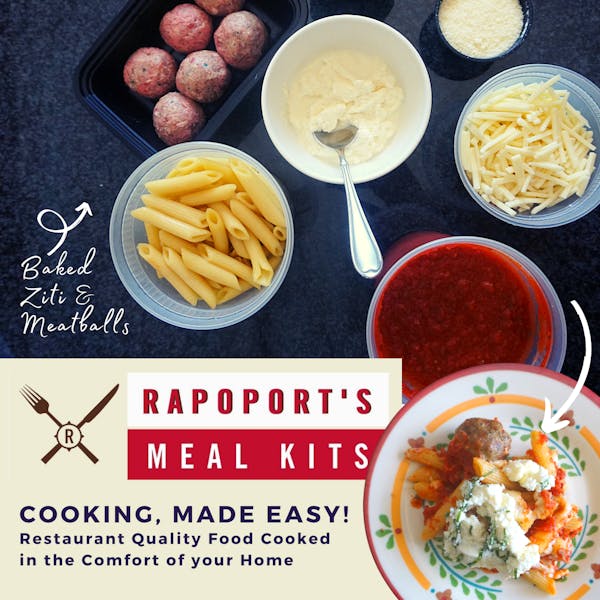 Rapoport's Restaurant Group has launched a new meal kit program; no subscription required. Guests can enjoy a number of signature restaurant dishes or new creations to cook up at home with easy-to-follow recipes. With the extensive cooking done by the Rapoport's chef team, all they need to do is minimal prep work, sauté or bake and enjoy.
All meal kit orders must be placed by Mondays for pick up or delivery options on Thursdays. Six kits are available for purchase each week which include at least one vegetarian option and one sandwich option. The kits include fresh ingredients that are perfectly proportioned for a restaurant-quality meal for 2-3 people. On average, each meal takes about 30 minutes from start to finish and will last up to 5 days in the fridge before cooking. Each meal kit will include a recipe card with photos.
"We understand that some people are still anxious about going out and may be for some time to come," says Rapoport's Culinary Director Patrick Broadhead. "These meal kits are an easy way for guests to enjoy restaurant quality food, with no visits to the grocery store and cooked fresh at their leisure."
The first week of meals will be available for pick up on Thursday, September 3rd and are available to view and order now on Deck84.com/store/catering. Orders must be placed for Monday, August 31st. The first weekly selections include Roasted Vegetable Curry, Max's Radiatore Pasta, Pork Tenderloin with Fontina Mashed Potatoes, Chicken Paillard, Baked Ziti with Meatballs and KFC (Korean Fried Chicken) Sandwich. Pick up is available at Deck 84 (840 E. Atlantic Ave. Delray Beach) between 3 & 6pm or delivery is available for orders over $75 to East and West Delray. Orders over $150 can receive free delivery with promo code – DELIVER.