Main content starts here, tab to start navigating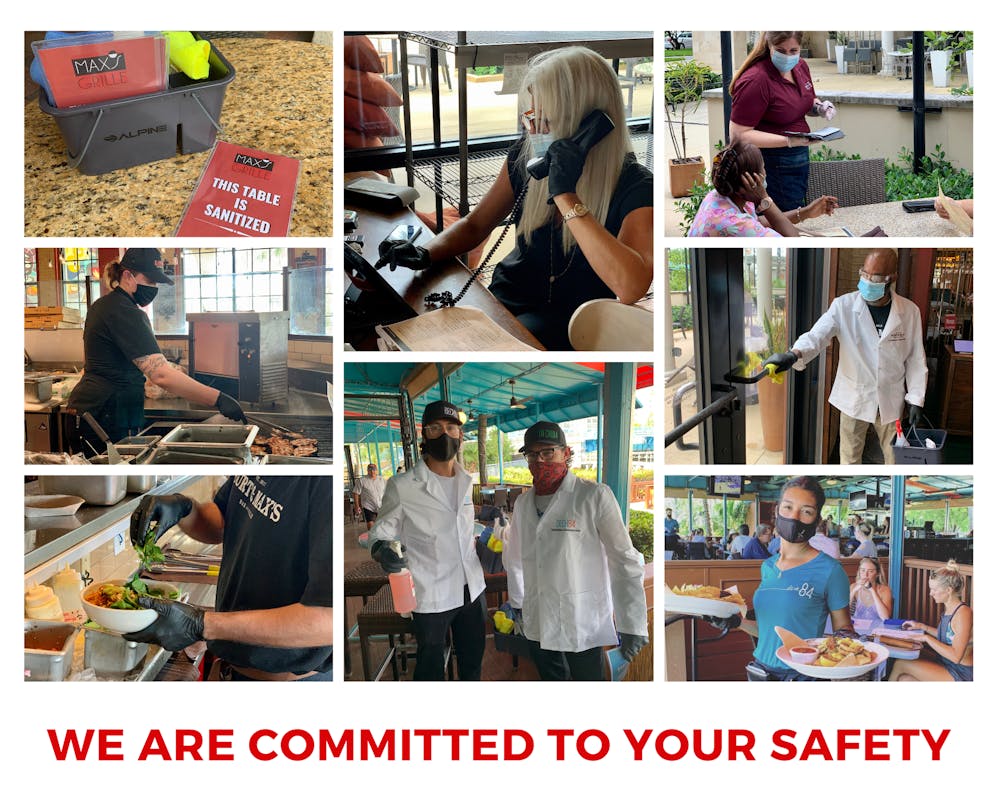 It's extremely important to us that our staff and guests feel safe and comfortable in our dining establishments.
We are constantly evaluating and enhancing our protocols as we navigate through these times. One thing that won't change? Our commitment to your safety!
Our ever-evolving list of protocols include:
Social Distancing - markers placed near hostess stand to help follow 6ft guidelines and all tables spaced 6ft apart
Masked - All front of house and back of house staff must wear a mask throughout their shift
Enforcing facial coverings for ALL guests and staff as soon as they arrive and when moving about the restaurant. Guests may remove coverings when seated.
Sanitation Administrator - their sole responsibility is to sanitize tables and chairs after each use, sanitize all touchable surfaces throughout the restaurant continuously, and sanitize restrooms.
Using QR code touchless menus or one-time-use disposable menus
Training & Education - Every employee has completed a COVID-19 Restaurant Sanitation & Safety workshop along with daily shift meetings discussing protocol enhancements, reminders & COVID updates from CDC, WHO, John Hopkins Hospital, Florida Restaurant & Lodging Association, etc.
We are ready to serve you safely!
Plenty of outdoor, covered or shaded seating spaces.
Max's Grille - 561-368-0080
Prezzo- 561-314-6840
Deck 84 - 561-665-8484
Burt & Max's - 561-638-6380
Curbside Pick Up Available for Take-Out Orders. Call or Order Online!
Check out our Sanitation Administrators in action in the video below
Jeannette S.
We recently moved to Boynton Beach and have been so gratified to see how well you have handled this covid craziness with your Burt & Max restaurant. We have recently walked out of some of the best restaurants in Delray and Palm Beach due to their lack of care in this regard, and ended up right back at B&M each time for a good meal, great service and attentiveness to cleanliness and distancing. Starting with Rachel at the reception desk, and all through to the end, you are exemplary in how to run a good restaurant, respond to the changing times, all while making guests feel welcomed and cared for. Kudos to you and your staff!
William W.
Burt & Max's has always been great. Excellent food and service. They are even better now, coming back from the Coronavirus. They are being extremely conscientious about cleanliness and sanitation. The dinner wear is as spotless and clean as a 5-star restaurant. The staff members wear masks, but they still smile with their eyes. A GREAT EXPERIENCE ALL AROUND!!!!!!!!!!!!!!!!!
Randi F.
Excellent service and great food. Social distancing in place and all wait staff wore masks and gloves. VERY IMPRESSIVE AND SAFETY CAUTIONS IN PLACE. (Max's Grille)
Amy T.
We enjoy eating at Prezzo and feel they are doing a good job of making you feel comfortable during the pandemic. We will definitely go back.
Ani C.
1st time here, with 9 people. We were seated at 2 tables to comply with social distancing. The food and service were terrific. Our waiter took care of both tables and did an amazing job. Thank you for respecting your customers by wearing gloves and masks, including your kitchen staff. (Deck 84)
Mel S.
We were very happy with our experience at Burt &Max last night. We had reservations on the patio which were honored. The tables were at least 6 feet apart and the staff all wore masks and gloves. As tables were vacated we saw a cleaning person spray and wipe the table and all the chairs. The waiter was excellent. The food was good.
Summer T.
Very positive experience during COVID. All staff wearing masks, tables far apart and lots of sanitizing....(Deck 84)
Aly K.
Great food, great service and very conscious of keeping tables apart and all workers wearing masks and fives while tables continuously being sanitized. Already made a reservation for next Friday as we enjoy the open air and live music. (Prezzo)