5 Questions with...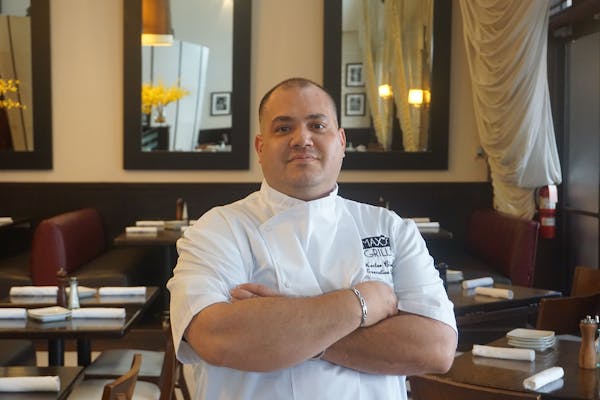 NAME: Hector Cintron
COLLEGE: Florida Culinary Institute of America, 2006
CURRENT CITY OF RESIDENCE: West Palm Beach, Florida
CURRENT RESTAURANT/POSITION: Executive Chef Max's Grille
1. What's your favorite item on the Max's Grille menu and why?
The Corned Beef Roll was a new addition to our fall menu. They have been a huge hit and we had rave reviews, but here is a reason why. We use first cut brisket for our Corned Beef. We slow-cook it for 4-5 hrs. We do our own sauerkraut and Thousand Island dressing. We then take and stuff an Eggroll Skin with the corned beef, sauerkraut and Swiss cheese and deep fry it until golden crisp and has a cheesy middle. This eggrolls are my quick go to while working. Grab and go. And man are they good.
2. What would people be surprised to find in your fridge?
I think people will be more surprise on how empty it is and how many leftover food containers are in there. My wife Veronica and I like to go out to eat and try new things (not fast foods). My son Andres has even developed a great palate even at a young age of 9. He now critics food more than I do and 90% of the time his right. He'll say things like "this dish lacks seasoning or this shrimp is overcook," etc. LOL!!
3. What's the one food trend that won't go away fast enough?
Vegan and Healthy Foods.
4. What about the restaurant industry keeps you going?
I love the rush. In the restaurant industry we face new challenges daily. Whether it's an employee not showing up to work, or your deliveries not getting in on time, or someone getting burn, etc. Yes, it is a fast paced, hot, stressful environment but it is what I love to do. It is also very rewarding. There is nothing better than working a busy night doing 700-800 covers in 4-5 hours and the employees say great job Chef the kitchen did a great job tonight. Also getting compliments from customers on how awesome their food was and how consistent we are. I also love the ever revolving season. Obviously fruits and vegetables are obtained seasonally; so this keeps us Chefs in a constant imaginative state. Developing new ideas and making sure that we provide our customers with the best quality of food while it's on its peak
5. What would your 'final meal' be?
This is a tough a question but the first thing that comes to mind is:
Bistec Encebollado, Arroz Mamposteo & Tostones (which is Sautéed Cubed Steak, with Onions, Rice & Red Beans and Fried Plantains) this is a dish that reminds me of my childhood and when I started appreciating and developing taste for certain foods. This is a dish I use to crave before and still crave now.
Second thing that pops to mind is Grilled Cheese Sandwich. Man I love Grilled Cheese Sandwiches. Come on, what not to love? Butter toasted bread griddled until crispy and golden brown with the gooey cheese coming out the side.
Please note, while Rapoport's Restaurant Group operates Max's Grille - Rapoport's gift cards and Rapoport's Rewards cards ARE NOT valid at Max's at this time.