Boca Observer Readers' Choice Award Winners!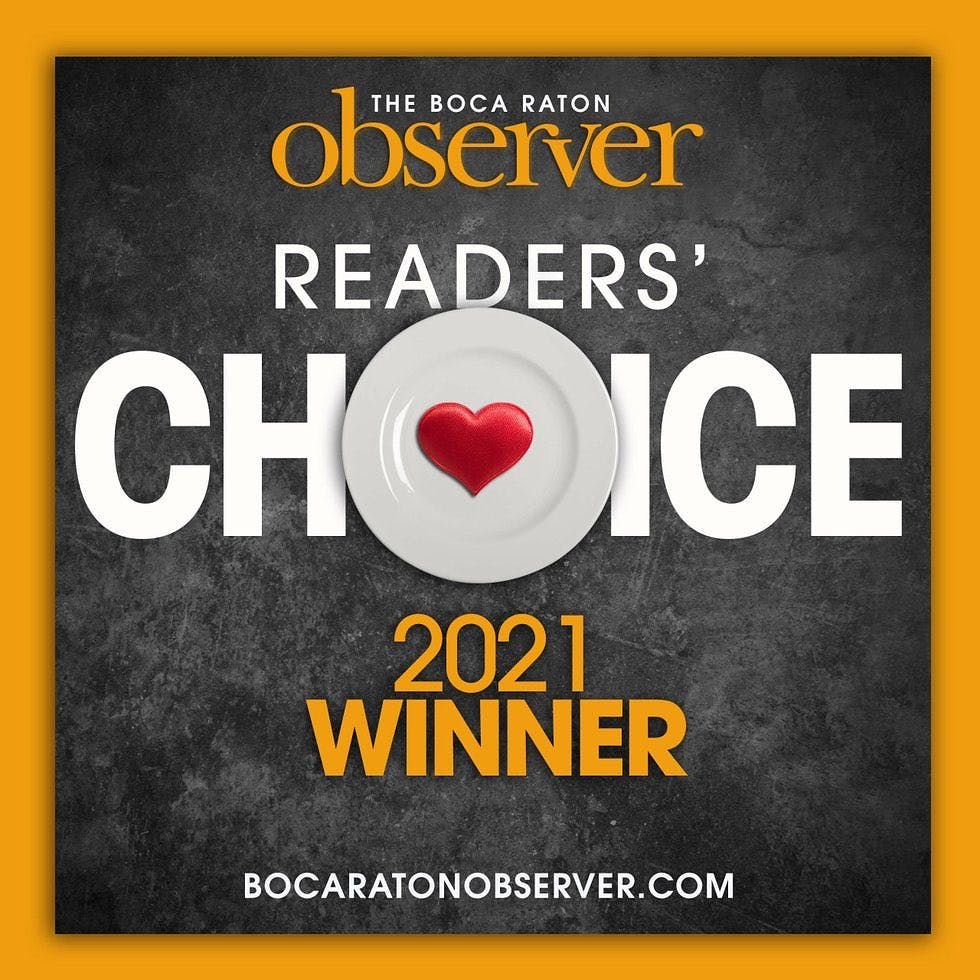 Rapoport's Restaurant Group is honored to announce that Deck 84, Burt & Max's, Max's Grille and Prezzo have been distinguished recipients of the Boca Observer Magazine Reader's Choice Awards for 2021.
The Boca Raton Observer Readers Choice Awards crowns the best restaurants in Boca Raton, Delray Beach and Highland Beach which are selected by locals here in South Florida. With over 20,000 votes casted we are pleased to have all of our restaurants win in at least one category.
Deck 84 was awarded the best "Happy Hour" category winner. Deck 84 has a range of signature cocktails, wine and frozen concoctions and we love to offer a chance for our guests to enjoy more with half the money spent! Join us on the waterfront Mon-Fri 3pm-6pm to relax on the waterfront with a beverage in hand. Deck 84 was also awarded best "Sports Bar/Pub" spot. There is no better way to enjoy game day than waterfront at Deck 84 with beautiful views!
Burt & Max's was honored with winning the best "Burger" category. The Farmhouse Burger never disappoints! Next time you make a trip to Burt & Max's make sure to give it a try.
Max's Grille was pleased to be acknowledged as the best "Cocktail" and best "Brunch" restaurant. Our cocktail list has a variety of different options and a great chance to expand your taste palette. Join us on Sunday and Saturday for our delicious brunch specials until 3pm. Make sure to include a $5 select brunch cocktail to accompany your brunch meal!
Prezzo was awarded as the best "Italian" cuisine restaurant. If you are ever having trouble deciding on what to eat, you can never go wrong with pasta! Join us soon at Prezzo for a tasty entrée and glass of wine.
We are very thankful to all of those you have voted for Deck 84, Burt & Max's, Max's Grille and Prezzo! Please join us in celebrating our restaurants' well deserved accomplishments!
Deck 84 - 840 E. Atlantic Ave. Delray Beach | 561-665-8484 | Deck84.com
Burt & Max's - 9089 W. Atlantic Ave. Delray Beach | 561-638-6380 | BurtandMaxs.com
Max's Grille - 404 Plaza Real. Boca Raton | 561-368-0080 | MaxsGrille.com
Prezzo - 5560 N. Military Trail Boca Raton | 561-314-6840 | PrezzoBoca.com