Doggie Diners Rejoice: Dog Menus Now Available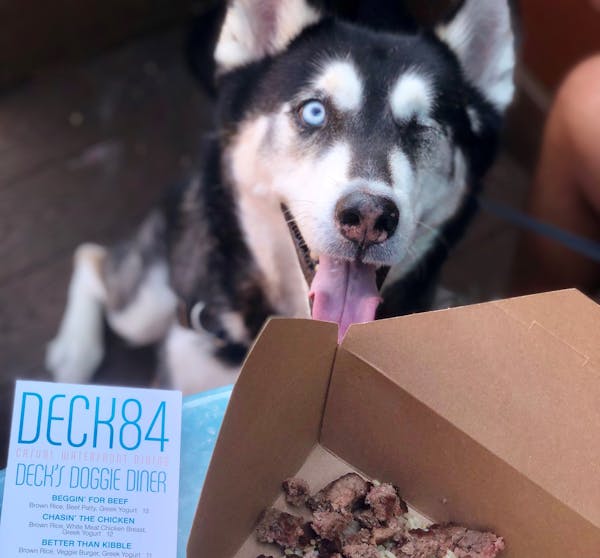 For all the 'good boys' out there, Rapoport's Restaurant Group has released new menus for man's (or woman's) best friend. The Boca Raton staple, Max's Grille has been serving up delectable entrees and biscuits for doggos for five years. As all Rapoport's locations have dog-friendly patios, the chef teams at Deck 84, Burt & Max's and Prezzo decide it was time to cater to the Fidos of South Florida.
If your fur baby enjoys waterfront views, good company, and meeting new friends there's no doubt they will adore dining at Deck 84 for a dog-licious meal. On the waterfront patio, there are four different feasting choices from Deck's Doggie Diner menu, along with a mouthwatering CBD doggie biscuit that will leave your dog drooling. Dog meal options consist of grilled chicken, prime beef burger, veggie burger or salmon, served with brown rice and Greek yogurt.
Burt and Max's Ruff Restaurant menu lets guests choose from a handful of options including Chasin' the Chicken, Beggin' for Beef or Fetch the Fish. Each protein is served with steamed rice, carrots and green beans. Just looking for a quick snack? Burt & Max's offers CBD Dog Biscuits from Bark Avenue. Dogs of all shapes and sizes are welcome to dine with their owners at the outdoor patio tables, lounge areas or high tops.
Lady and the Tramp vibes are picking up at Prezzo with their new Patio Pup menu. Items include the 'Yardbird' - steamed pasta with grilled chicken, and brussels sprouts or the 'Here Fishy Fishy' which features salmon, steamed pasta and spinach. The Bark Avenue CBD Dog Biscuits are also available for Prezzo pups. Located in Park Place plaza in Central Boca, Prezzo is the perfect Italian option to bring your pup and dine al fresco at the outdoor bar or patio area.
The leaders of this Rapoport's "dog pack" are Max's Grille who have been offering the Mizner Bark Café dog menu since 2014. Bring your dog into Max's Grill to enjoy a snack, entrée or dessert on the outdoor patio or bar area. Menu options include chicken or ground beef steak served with steamed rice, green beans and carrots. Other options include barkaroni pasta or the chef team even offers a dog-lightful gluten free biscuit option. If your dog has been a really good boy or girl, you can treat them to the ultimate filet mignon meal that will have them licking their chops for days. To top off your dog's perfect night out, Max's offers frozen pupcakes for dessert featuring any dog's favorite ingredient, peanut butter!
Guest service is always a top priority for a Rapoport's Restaurant Group location which is why we have provided some etiquette tips for the dogs to ensure dog owners and non-dog owners both have an enjoyable experience. These tips are displayed on the back of the dog menus for reference. Ground rules include keeping your dog leashed at all times, four-legged friends are NOT allowed on the tables or chairs, excessive barking will not be tolerated, dogs are only allowed to eat or drink from specified bowls and plates (or you can bring your own). Under no circumstances are they allowed to eat or drink from human plateware, cups or silverware.
So if you aren't one to leave your best friend behind or want to show your fur baby a night out on the town, dine at Deck 84, Burt & Max's, Max's Grille or Prezzo for a tail-waggin' good time.