Great Room Redo at Max's Grille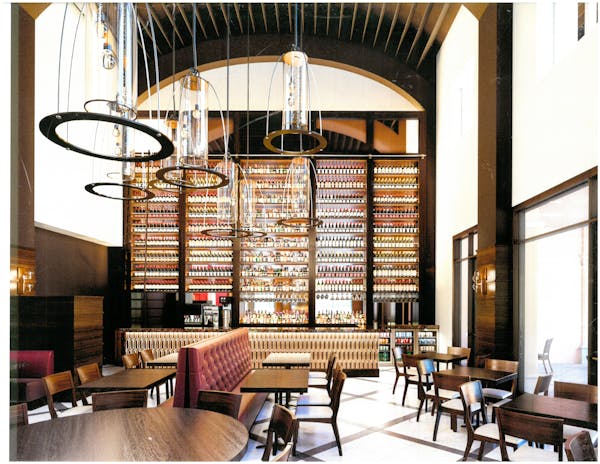 A Boca Raton mainstay, Max's Grille, has begun phase one of a two-part summer renovation plan. The front dining room, the indoor and outdoor bar area and the entire patio will remain open for the duration of the renovation, while the "Great Room" is temporarily closed as it undergoes a series of design changes. Renovations are expected to last until September.
"Our goal is to update the vibe while maintaining a timeless aesthetic," says Pam Manhas of Manhas Designs, one of the region's leading restaurant & hospitality design firms. "Max's Grille guests have enjoyed dining there for nearly three decades. We wanted to maintain the comfort and familiarity of the space while giving the design a fresh approach."
The focal point of the new design for the "Great Room" will be the addition of a new 16-foot-tall, stunning service bar. Boasting a magnificent, illuminated liquor display wall with a custom sliding ladder, the new bar energizes the room while providing speedy bar service for the dining room and patio tables. Plus, a new custom abstract mural by local renowned artist, Ruben Ubiera, and unique pendant lighting will add a dramatic element to the room. The old service bar structure, the large white drapes and wooden shutters covering the interior windows will all be removed.
"With the Grille's 30-year anniversary approaching in 2021, we wanted to really modernize the space and add some 'wow' elements," says managing partner, Burt Rapoport, president of Rapoport's Restaurant Group. "In addition to that, the structural changes will help make the dining room service much more efficient than before."
Additionally, all tables, chairs and bar stools are being replaced with new ones throughout the entire restaurant. An oversized, half-moon booth will take the place of the old service bar and every wall will receive a fresh coat of paint and new lighting fixtures throughout.
Phase two of the renovations will focus on the outdoor patio and bar area. Those are scheduled for the summer of 2020.
*Please note, Rapoport's Rewards card and gift cards are NOT valid at Max's Grille.