Holiday Takeout/Delivery Hours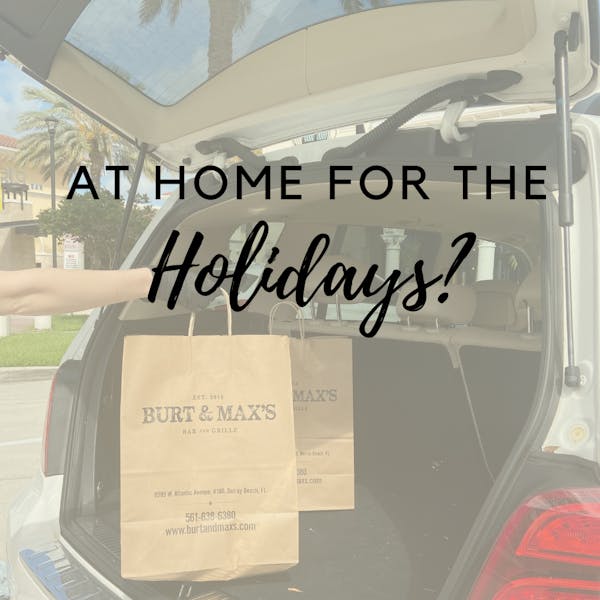 Deck 84 - 840 E. Atlantic Ave. Delray Beach
561-665-8484
Xmas Eve: 12-7pm, delivery via Delivery Dudes or pick up
Xmas Day: 12-4pm only. Phone-in pick up orders only
NYE: 12pm-5pm
NYD: After 5pm
Max's Grille - 404 Plaza Real. Boca Raton (Mizner Park)
561-368-0080
Xmas Eve: 11:30am-8:30pm, delivery via Delivery Dudes or pick up
Xmas Day: 3-8pm, pick up only; order online or phone-in
NYE: 11:30am-8:30pm
NYD: 11:30am-9pm
Burt & Max's - 9089 W. Atlantic Ave. Delray Beach
561-638-6380
Xmas Eve: 11:30am-9pm, delivery via Delivery Dudes or pick up
Xmas Day: 1-8pm, phone-in pick up orders only. Subject to change due to dine-in volume.
NYE: 11:30am-8:30pm
NYD: 11:30am-9:30pm
Prezzo - 5560 N. Military Trail, Boca Raton
561-314-6840
Xmas Eve: 11:30am-9:30pm, delivery via in-house, Delivery Dudes, or Uber Eats or pick up.
Xmas Day: 3-8:30pm, pick up orders via phone or online. Delivery subject to availability of UberEats or our in-house driver network.
NYE: 11:30am-9:30pm
NYD: 11:30am-9:30pm