NEW YEAR, NEW LOOK, NEW MENU ITEMS AT DECK 84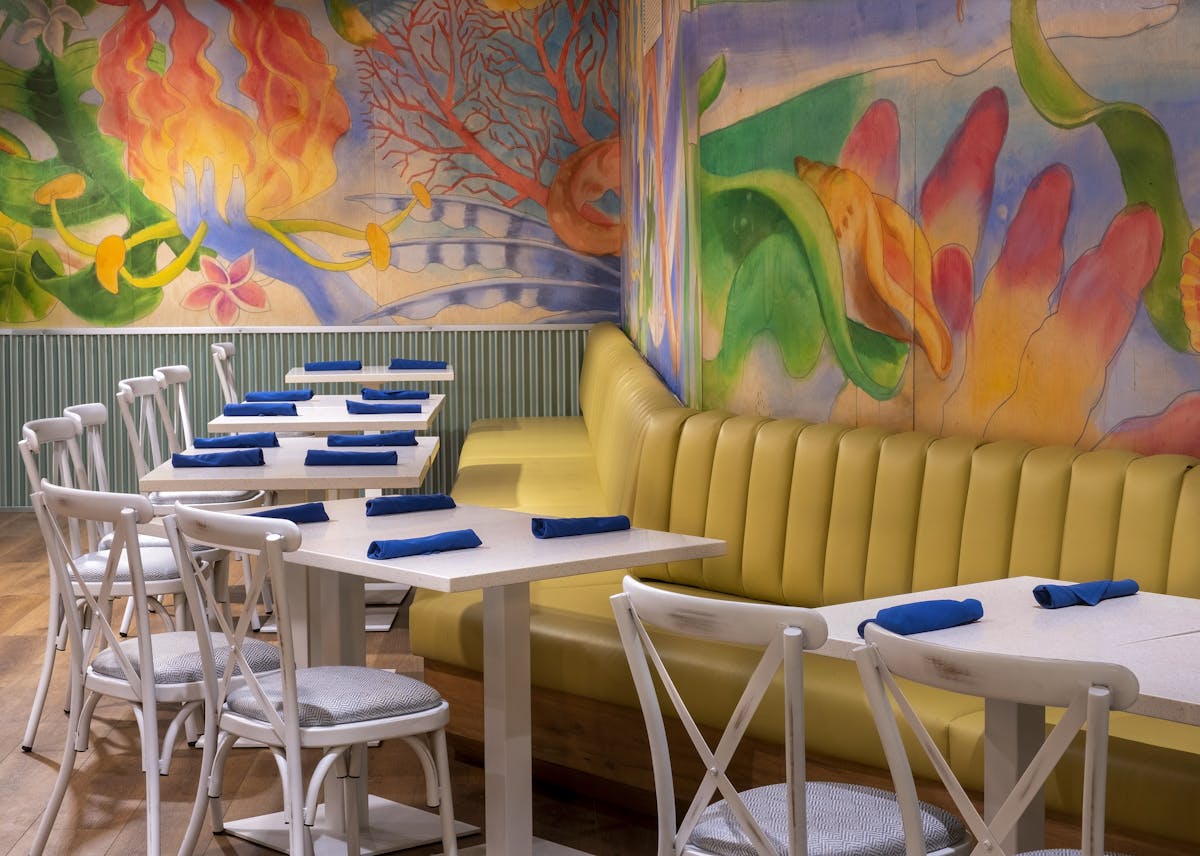 Delray Beach's go-to waterfront dining destination since 2010, Deck 84, has received a "glow up" for the new year. The updated interior dining room features a bold and bright Caribbean feel, complete with the installation of a sushi bar. Sushi selections are now available Thursday through Sunday for lunch and dinner, expanding to seven days a week in the near future.
Designed by Montreal-based Pageau Design, Deck 84's updated interiors include intricate tile designs, tropical bathroom wallpaper, a bold mural wall and all new tables, chairs, booths and light fixtures. Deck 84 remained opened during the floor to ceiling renovations which were completed in late 2022.
The sushi program at Deck 84 has been shaped by their newest hire, Chef de Cuisine Katt Dreyfuss. Dreyfuss joined the team in January 2023. Her experience spans from the West coast to the East including Michelin-starred Spago in Beverly Hills and James Beard-nominated Tiger Mama and Haley-Henry Wine Bar in Boston. In addition to her extensive restaurant experience, Dreyfuss also competed (and won) in Food Network's Guy's Grocery Games Beat the Judges: Spicy which recently aired on February 1, 2023. Using her knowledge of world cuisine and fine dining techniques, her philosophy to Deck 84's sushi program is to deliver balanced, clean flavors; using interesting ingredients and the freshest fish, including some locally-sourced species.
"While we will be sticking with some traditional rolls and bites, we plan on presenting our guests with some exciting flavor combinations and inventive sushi rolls, sashimi preparations, and fun snacks influenced by dishes from around the world," states Dreyfuss.
The team put together a select menu to launch with and plans to expand on their sushi options in the coming months. Current selections include Cucumber Kimchi Bowl composed of chili garlic cucumbers, kimchi, curry-pickled bean sprouts, ginger, seaweed salad, sesame, tajin, mint, dill, coconut sticky rice and wasabi tobiko ($17) and Tuna Poke Bowl with passion miso vinaigrette, gochujang, curry-pickled bean sprouts, coconut sticky rice, soy gel, scallion, crispy shallot, crispy ginger and furikake ($26). Small plates such as Wahoo Tiradito with aji amarillo charred scallion oil, lime, corn salsa, cilantro and crispy rice pearls ($20) and Salmon Crudo prepared with a black bean sauce, pickled ginger, cilantro, poblano crema, jalapeno, crispy shallot, nori powder and grilled lime ($20). Sushi roll selections include a traditional Spicy Tuna Roll with cucumber, eel sauce, sesame ($16), Deck 84 Roll with spicy tuna, cucumber, cream cheese, spicy mayo, eel sauce, scallion, tobiko, furikake ($22) and a unique Ceviche Roll composed of shrimp salad, wahoo, crab, cucumber, pickled red onion, avocado, coconut leche de tigre, tajin, furikake, cilantro, basil, jalapeno and lime ($26). New menu items will be added in the coming months and can be viewed at Deck84.com/menus/sushi.