Recipe Corner | Spinach Dip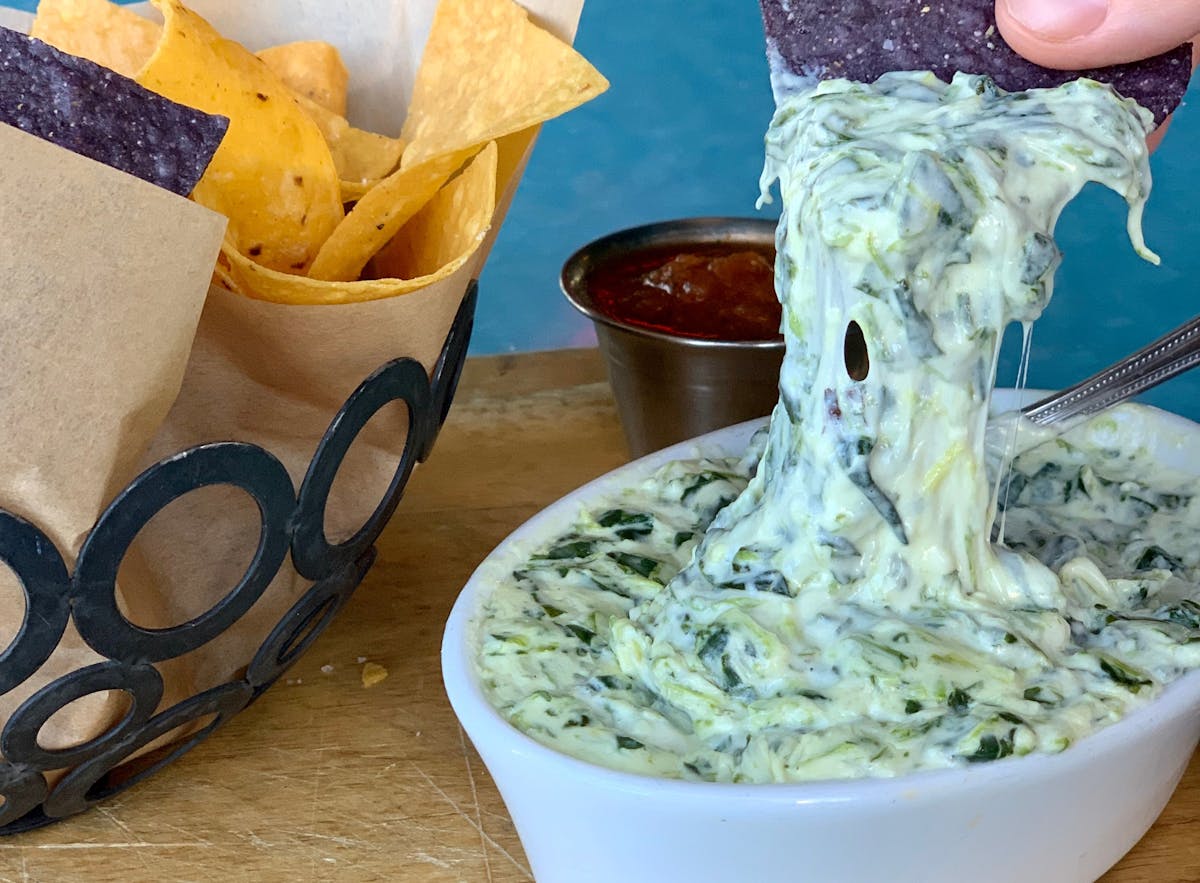 The spinach dip is a constant staple on a number of our menus over the years. What's not to love? It's great for sharing and who doesn't drool for all that gooey, cheesy goodness. With party season in full effect, Spinach Dip is the perfect appetizer for your holiday gathering!
SPINACH DIP (yield – 1 qt)
Ingredients:
3 cups mornay sauce – recipe follows
1 lb. frozen spinach, thawed
2 tbls. Grated parmesan, plus more for serving
Mornay Sauce Ingredients (yield – 1 qt)
1.25 oz. unsalted butter
2 Tblsp. Vegetable oil
3 oz. yellow onion, minced
2 clove garlic, smashed & minced
2.5 oz. AP flour
7 oz. vegetable broth
6 oz. heavy cream
4.5 oz. parmesan cheese, grated
4.5 oz. provolone cheese, grated
4.5 oz. sharp white cheddar cheese, grated
5.5 oz. sour cream
2 tsp. kosher salt
Tobacco hot sauce – a few dashes to taste
DIRECTIONS
1. Using a kitchen towel or with your bare hands, squeeze the excess water from the spinach. (At this point the spinach will be in a wad, so you will need to separate it to ensure that it mixes well).
2. Put the chilled mornay sauce in a mixing bowl, add the 2 tbls. parmesan cheese, a pinch of salt and a grind of black pepper. Add the drained, separated spinach and mix well until evenly distributed throughout the mornay. Refrigerate until ready to use. Will last under refrigeration up to 7 days.
For serving: the spinach dip can be heated either on the stove top, in a microwave or baked in the oven (chef's preferred method – sshhh!).
If heating on the stove top, do so over medium-low heat, stirring frequently so it doesn't stick and scorch, until it desired temperature is achieved.
In the microwave – put in a microwave safe container and warm on high for 1-2 minutes until the desired temperature is achieved, stirring at least once to evenly distribute heat. Stir again once out of the microwave.
In the oven – preheat oven 375-400 deg F and place spinach dip in an ovenproof container. Top with a sprinkle of parmesan cheese or a melty cheese of your choice and bake until hot and bubbly around the edges, 10-15 minutes.
Serve the warmed spinach dip with a sprinkle of grated parmesan cheese, your favorite tomato salsa or pico de gallo and crispy corn tortilla chips.
MORNAY SAUCE DIRECTIONS:
Heat a 2 qt. saucepan over medium-to-medium low temperature.
Add oil, butter, onions, and garlic to hot pot and cook until fragrant and onions are translucent, stirring frequently so the garlic doesn't burn, 4-5 minutes. Season with salt.
Add the flour, stir well to combine until all the fat is absorbed into the flour. It should be slightly moist and crumbly. Adjust with additional flour if needed. Congratulations – you just made a roux! Continue to stir the roux, cooking until the raw flour is cooked out, 3-4 minutes more.
Slowly add the vegetable broth and using a whisk stirring well after each addition to ensure that lumps do not form. Next add the heavy cream in the same fashion. Allow to cook for 4-5 minutes, stirring frequently, until it thickens and coats the back of a spoon.
Next, add the sour cream and stir until fully incorporated.
Then add the cheeses, one at a time, ensuring each is fully incorporated before adding the next. If you add the cheese to quickly, it can cause the sauce to break and be inconsistent. Be sure to stir frequently so the mornay does not scorch.
Finally, finish with tabasco and a pinch of salt. Taste and adjust seasonings accordingly.
Cool completely before covering and refrigerating. Be sure to stir often as the mornay cools as a film develops on the top the traps the heat in, so it takes longer to cool.
The mornay will last under refrigeration for up to 7 days.