Recipe Corner | Vegetarian 'Meat'balls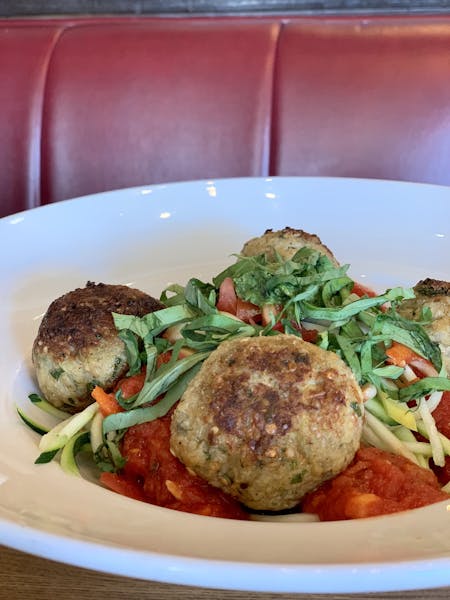 Max's Grille Vegetarian 'Meat'balls featured in their new Plant-based section on the menu.
Ingredients:
¾ C oatmeal
3 oz canned coconut milk
1 small Spanish yellow onion
2 cloves (minced)
¼ tsp dried oregano
¼ tsp crushed red pepper
1.75 lbs Japanese eggplant
1 C grana padana cheese
1/3 bunch Italian parsley
½ T kosher salt
1 ½ t black pepper
2 cups quinoa (cooked to instructions on package)
Yields: (42) 2oz Meatballs
Directions:
Preheat oven to 350 degrees
Soak the oatmeal in coconut milk, set aside.
Prepare quinoa to package instructions, set aside
Mince onion (should have around ½ of a cup)
Heat a large drizzle of olive oil over medium heat.
Sauté onions, garlic, oregano, & crushed red pepper in the olive oil until translucent; season lightly with salt & pepper, set aside to cool
Peel & dice eggplant; season with salt & pepper and a drizzle of olive oil.
Toss and roast in oven for 8-10 minutes.
Remove from oven and allow to cool
In a large bowl, mix all ingredients and toss until well combined
Portion into 2oz balls
Once balls are formed, roast in oven at 350 degrees for 10-12 minute until set.