Recipe: Skinny Cocktail @ Deck 84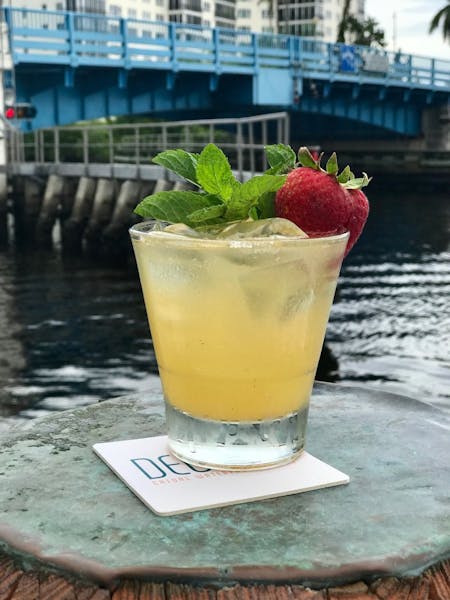 July 2, 2018 | News
Head on over to Deck 84 to check out some new cocktails for the summer. Cool down with a Fromosa – frozen prosecco & Orange Vodka or Jack Daniels and Frozen Cola. Go tropical with their new line up of mojitos including Pineapple Blueberry, Brazilian Passion Fruit or Mediterranean. Or sip all day without the guilt, with Deck's new Skinny Drink section featuring the cocktails prepared with all natural sweeteners and fresh ingredients. The Downtowner is just one of the 5 skinny options available. Stop by and let our bartenders prepare one for you or try it out at home!
DOWNTOWNER
2 oz Stoli Vodka
1/2 oz oz Real Peach Puree
1/2 oz Fresh Lime Juice
1 oz Coconut Water
1 Large Strawberry cut in 1/4
Add Ingredients into a shaker with Ice, Shake Vigorously, and strain onto Fresh Ice. Garnish with a mint sprig.