This is How Max's Rolls..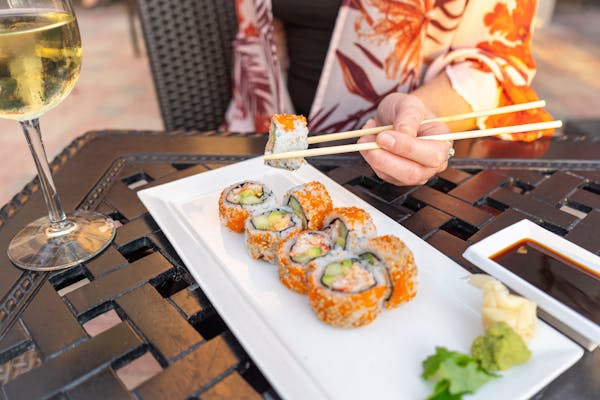 A Boca Raton staple centrally located in Mizner Park, Max's Grille has been pleasing diner's palates with their modern American menu for nearly 30 years. Looking to bring a new component to their current menu this season, the team has introduced sushi selections to satisfy current guests and entice new ones.
"I've felt for some time that sushi would be well received by our guests at Max's Grille," say Burt Rapoport, president of Rapoport's Restaurant Group. "With Bluefin and Rack's next door to us for years, the timing was never there. Now that there are no sushi restaurants in Mizner, we felt it was time to bring in a sushi chef and create a menu of our own."
Max's sushi menu was created and crafted by Sushi Chef Tony Buemi who has an extensive career working at popular sushi destinations such as Nobu Milano, Racks in Mizner Park, and most recently City Oyster. His elevated classic creations at Max's include the Spicy Tuna Pop Roll comprised of #1 yellowfin tuna, spicy mayo, jalapeno, avocado, cucumber, scallions topped with pop rocks, rice pearls, and wasabi sesame seeds; Mizner Roll comprised of hamachi, spicy tuna, avocado, cilantro, jalapeno, rice pearls, crispy shallots, and eel sauce; and the Long Beach Roll which features Faroe Island salmon, cream cheese, scallions, avocado, sesame seeds, soy paper, and ikura. The entire menu currently offers seven rolls and a Hamachi Jalapeno Crudo with intentions of adding more selections in the near future.
Max's Grille sushi menu is currently available Tuesday through Saturday starting at 4pm, expanding to lunch and daily soon.
Happy Hour sushi menu with classic rolls such as Spicy Tuna, Spicy Salmon, Classic JB, Tuna Crunch, and Classic Cali Roll for just $8 from 5-6:30pm at the bar & hightops.
The sushi new selections in addition to their regular menu of modern American cuisine makes Max's Grille the perfect go-to restaurant for even the pickiest eaters. There truly is something for everyone.