You Catch, We'll Cook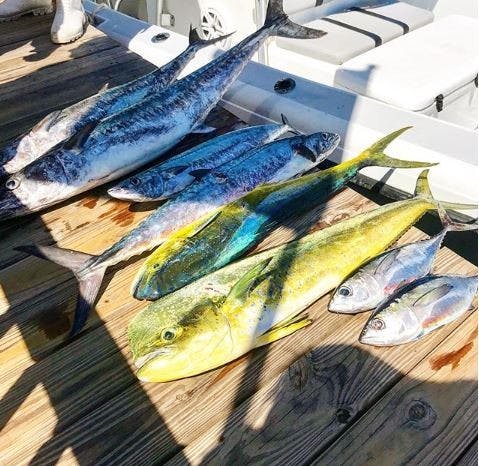 Situated on Atlantic Ave. in Delray Beach our waterfront restaurant, Deck 84, has been a local hotspot for boaters and fishermen since opening in 2010. After a day out on the boat, cruise on down the Intracoastal to dock at Deck 84 for the perfect post-fishing solution.
Those lucky enough to catch something can bring in their freshly caught (and filleted) fish and the Deck 84 chef team will cook if up for you any way you'd like. Choose from blackened, grilled or breaded options served up on a bed of rice, turned into fish tacos or a fish sandwich, the choice is up to you. Fish is served family style with a choice of two sides for $21.95 per person. Paired with waterfront views and a cocktail in hand and you have the making of a perfect lunch or dinner.
Named Top 100 al fresco dining restaurant in America by Opentable diners, Deck 84 is located at 840 East Atlantic Avenue in Delray Beach. Open daily beginning at 11:30 a.m. each weekday for lunch and dinner. Brunch is available on Saturdays and Sundays from 10:30 a.m. with a Build-Your-Own 20 oz. Bloody Mary Bar. Named Top 100 Al Fresco Dining Restaurants in America in 2012, 2013, and 2015, Deck 84 is a perfect restaurant, bar and lounge for vacationers, beachgoers, boaters and local residents. Dine, drink and discover Deck 84's American cuisine prepare by Executive Chef Micheal Romano. For more information or reservations, please visit Deck84.com or call 561-665-8484.