Burt's Note | Season '19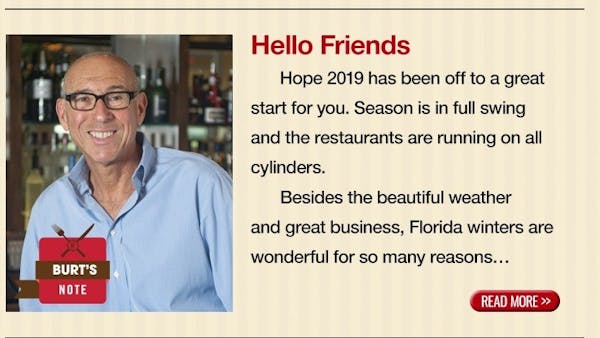 Hello Friends,
Hope 2019 has been off to a great start for you. Season is in full swing and the restaurants are running on all cylinders.
Besides the beautiful weather and great business, Florida winters are wonderful for so many reasons. For the restaurants it's the best season for sourcing locally. From brussels sprouts and cucumbers to strawberries and tangerines, the winter months in Florida give our restaurants an abundance of fruits, vegetables and herbs to source from our own backyard. Check out some of the local farms we work with here!
As a restaurant owner and someone who dines out quite frequently, people always ask me for dining out tips. I'd have to say my #1 tip is to dine outdoors. We're extremely lucky in South Florida as we usually get to enjoy 70-80 degree, non-humid weather this time of year. Outdoor seating tends to be more available, less noisy and creates a relaxing atmosphere to enjoy. As weather is usually a factor, outdoor seating tends to have the most availability for walk-ins, so no reservations necessary. Plus, you can dine out with your furry companions. All of Rapoport's locations offer dog-friendly outdoor seating.
Thank you again for all the support you have provided to the restaurants, my team and myself over the past year. We look forward to hosting you soon!